Welcome to the ViconNet Online Registration.
Before registering your software, be sure to perform the following: (or skip to login now)
1. Install the ViconNet software. (To install the software, refer to the User manual that was provided with the software.) To complete the registration you will need the License ID and Password from the CD jewel case.
2. Obtain User Codes from the ViconNet Registration window. To find the codes, perform the following:
a. From the ViconNet Main window, click the Setup button. The Setup Site Selection window appears, displaying a list of all currently connected transmitters and workstations.
b. Select your local site name and click the Select button. The Main Settings window is displayed. Click the Registration button. The ViconNet Registration window (displayed below) will open.
Sample Registration Window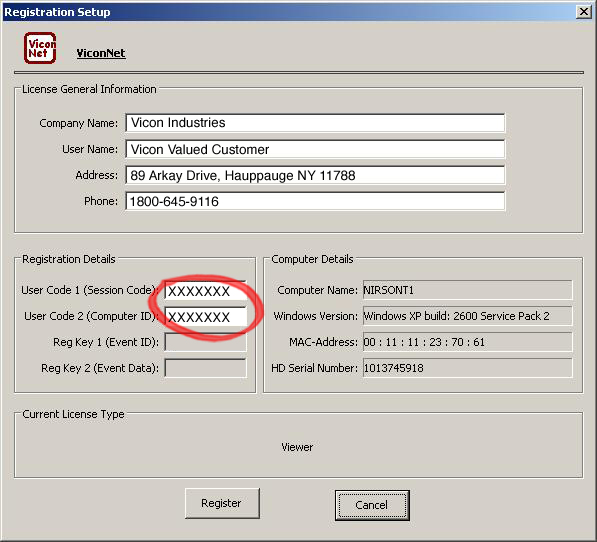 c. Fill in the License General Information section of the ViconNet Registration form.
d. Make a record of User Code 1 and User Code 2 (as circled in red above) and keep them in a safe place for future reference.
3. Press the Next button.
Next
CCBot/2.0 (https://commoncrawl.org/faq/)

Min